The Matt Dozier Benefit Tournament
Before reading the article below, I want to share what this tournament means me and my family. We have been part of the event since its beginning. My father Gene Campbell started this event with 12 teams in the hopes of raising a little bit of money to help out Matt and his family. Over a few years it became more than that, it took a life of its own and now every year we have around 300 teams participate in this event. This became a blessing for Matt and his family, due to the high cost of medical bills, therapy, 24 hour care, and complications over the years resulting from the injury.
When my father became ill himself and I began to learn everything about following in his footsteps he made me promise one thing and I quote, "when I'm gone son, you better carry on the Matt Dozier! Matt should never want for anything. This tournament was started to help take the financial burden off of Wayne and Terri. God forbid but the day that Matt is no longer with us then you continue it in his honor and donate the money to spinal cord research. Can you promise me that son?" Of course I said yes. Hands down this was his favorite event every year and I would understand why after my father passing in 2015.
After we lost my father and we continued to run the Dozier as promised is when I started to spend time with Matt. This is when I learned just how amazing Matt Dozier is.
Let me set the scene first. Matt is paralyized basically from the neck down. No use of his hands. Can you imagine that? Now I believe most people could just give up and check out but not Matt. This young man designed his own mouse so he can operate his computer. Taught himself 3D cad design. He developed his own mouth piece so he could play his pinball machine. He even built his own 3D printer. I quickly understood why this event was so important to my father and it became the same for me.
100% of the net profits go directly to help Matt and The Matt Dozier Scholarship Foundation. The Matt Dozier Scholarship Foundation helps provide scholarships for high school baseball players.
It's a true honor to be part of such a great event that helps an even a greater person and a family that I'm proud to say is my family.
Sincerely,
Tim Campbell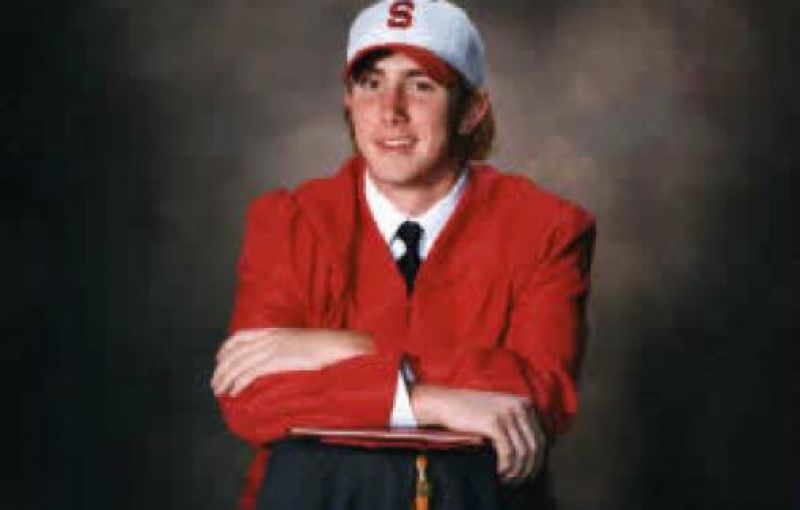 A Warrior who won't give up his fight
Paralyzing accident hasn't dimmed ex-athlete's dreams
November 11, 2004
By Randy Jennings / The Dallas Morning News
A day doesn't pass without Matt Dozier thinking about the night of Aug. 31, 2002.
Matt Dozier, a 2002 South Grand Prairie graduate, played center field.
About how his life would be different today had he gone hunting as first planned.
About how if he'd put gel in his hair, he probably wouldn't have gone swimming that evening.
"That day runs through all of our minds all the time," said Mr. Dozier's mother. Terri Wolf. "About the things that could have happened to change it."
Mr. Dozier, who turned 21 on Monday, suffered a paralyzing neck injury that night diving into an apartment swimming pool in Arlington.
Months before, he'd written words expressing his life's ambition in the 2002 game program of the South Grand Prairie Warriors Baseball team, for which he was a center fielder.
"Live life to the fullest and do what I want with it."
I reminded him of that, Mr.Dozier pauses for a moment.
"I still stand by it," he said. "You never know what is going to happen. No one should be living life scared.
Mr. Dozier spends most of his day in a room that was once the patio at his family's home. There is exercise equipment in the corner, a computer in another, a television, a table for card games and a pinball machine.
French doors take in the afternoon sunshine.
A Mark Teixeria jersey hangs on the wall. Autographed balls sit on shelves. The latest addition is an Oklahoma Sooners autographed football, courtesy of former classmate Remi Ayodele, who plays on that team.
Mr. Dozier's bathroom was remodeled to accommodate him, and doorways throughout the home have been widened. Insurance money allowed the family to buy about $100,00 worth of special equipment.
He sits upright in his $30,000 motorized wheelchair, which he controls with his three-piece headrest. He is dressed casually in jeans and a short-sleeve shirt. He wears shorts on workout days.
Mr. Dozier recently gained 10 pounds. He weighs 135 now, 50 below the weight at which he played baseball.
On a typical day, he wakes up at about 10:30 a.m. and is helped into his clothes by his cousin Micheal Hammond.
"Mom does my pants in the morning because I'm uncomfortable with another guy doing it, "Mr. Dozier said, smiling.
After breakfast, Mr. Dozier gets on his computer and checks his fantasy teams. His baseball team is the Ball Knockers; his football team, the Ball Busters.
His therapist former classmate Jessica Pineda, works with him three days a week from 1 to 4 p.m. He stretches and exercises on machines.
"It is amazing to me how well he has taken all this and still remains the same person, Ms. Pineda said.
His mother gets home around 4 p.m. Mr. Dozier eats again about 6:30 p.m., and if a game is on television, he is probably watching.
"I watch sports a lot more than I did before the accident, "he said. "I guess because I was too busy playing to watch."
Friends come by to watch football and visit. They are never turned away because Mr. Dozier enjoys company. "Don't be scared, " he says.
He eats again about 10:20 or 11 p.m. before going to bed. Mr. Dozier sleeps on a bed that automatically turns him over every two hours.
His grandmother, Doris Davis, comes from Corsicana to stay with him two days each week. Another regular visitor is the Rev. James Hogue, the minister at the family's church, Open Door Baptist.
Learning to cope
For a year after the accident, Mr. Dozier said, he rarely went out.
"It felt like everybody was staring at me," he said. "Plus, I had lost a lot of weight."
Now, he has adjusted. He goes out a couple of times a week--to a restaurant, to the movies. The family purchased a van with a lift.
The turning point, Mr. Dozier and his parents agree, was a month long trip to a rehabilitation hospital in St. Louis.
"We were constantly making trips with other patients, and I could see Matt coming out of his shell," said his mother, an administrative assistant at Trammell Crow Co. She was with her son during his entire stay.
Mr. Dozier said the difference was the attitude of the medical staff.
"In the hospital here, they were teaching me how to live with the situation," he said. "In St. Louis, they gave me hope. It changed my whole outlook. I look at things differently."
Hope comes from the progress he has made. The numbers important to him are no longer his batting average but his minus-2 to plus-6 improvements on a scale that measures mobility going up to 100.
"At first, the doctors say you have a 1 percent chance of walking, "Mr. Dozier said. "They aren't allowed to say anything else. But there is research with stem cells going on right now in China that gives me hope. And then there is God that can step in and help."
Finding inspiration
His hero is Pat Rummerfield, a St. Louis man who overcame a similar injury and today leads a normal life.
Mr. Dozier's mother arranged for Mr. Rummerfield to visit her son in the hospital in St. Louis. The photo that documents the visit occupies a prominent place in Mr. Dozier's room. He said the two continue to correspond.
Mr. Rummerfield, at 21 was involved in a car crash that broke his neck in four places. It took him three years to learn to walk, but he has gone on to run marathons and hold a NASCAR racing license.
"If he can do it," Mr. Dozier said, "I can do it."
Mr. Dozier said he has full sensation of his left arm. He said feeling in the right arm comes and goes. He can flex his wrist and finger muscle. Sometimes he has feeling in his feet. He is determined to keep working his muscles as much as possible.
"If improvements come, I want my muscles to be ready, " he said.
His friend Dustin Gullett was a birthday visitor Monday.
"I've thought about what I'd be like if i was in Matt's situation," Mr. Gullett said. "There's no way I could handle it the way he has."
'I guess I didn't die'
Days before the accident, Mt. Dozier had started classes at North Lake College in Irving. He planned to try out for the baseball team. He had been working out with the South Grand Prairie team to get ready.
He was helping Mr. Gullett move when the accident happened.
The evening of the accident was warm. The boys were hot and tired from lifting boxes, and the apartment swimming pool beckoned.
"I knew the water was 3 feet deep, and it said, No diving, 'but I was planning on diving out away from the side of the pool," Mr. Dozier said.
He had performed similar dives at friends' swimming pools many times.
This time was different.
He said he remembers his head hitting the bottom and then not being able to move. He isn't sure how long he was under water: "As long as I can hold my breath and then some," he said.
Mr. Gullett thought he was playing at first. He got Mr. Dozier out of the water. A man who was watching his children swim performed CPR.
Mr. Dozier said he remembers waking up and seeing the ambulance's flashing light and thinking, "Well, I guess I didn't die."
The days that followed are lost from his memory. His parents say his eyes were open and he smiled at them when they visited, but Mr. Dozier does not remember.
The injury affected the C4 and C5 vertebrae. The spinal cord was bruised not severed.
He has undergone two operations on his neck.
For months after the accident, Mr. Dozier lost his sense of taste. Now, he says, he can eat anything--except food from the restaurant where he ate the night of the injury.
Setting a new path
College has been put on hold, but Mr. Dozier said he plans to begin taking courses over the Internet soon. Once, he was interested in structural engineering and architecture, but his interest now is in Web design.
The words about living life to the fullest weren't the only ones Mr. Dozier wrote in South Grand Prairie's baseball program as a senior.
He offered advice to underclassmen as well:
"Don't ever give up."
Now, he lives by those words.